I've dreamt of the complete freedom and incomparable adrenalin rush of helicopter skiing & snowboarding for the past twenty years. My expectations were high, yet these visions were exceeded by my Canadian Mountain Holidays experience in the most surprising ways.
I learned to ski at the age of 9 from my grandfather, Andy Hennig, who was an Austrian Ski instructor at Sun Valley, Idaho until the age of 77. He was a legend in his own right teaching the Hemingway family and countless celebrities while working with Warren Miller in the early days of the adventure ski films. This lifestyle made an unforgettable impression, and in my mid 20's I took a job at a snowboard company, hired photographers for marketing campaigns, and watched endless ski and snowboard films to fuel the fire.
Fast forward 15 years and my dream had nearly slipped away. I used the same excuses of lacking time, money, and fitness that most of us justify in delaying such adventures. Additionally last summer I lost my snowboarding partner of 15 years, Dale Johnson, who died in a tragic accident before he had the chance to heli snowboard – #1 on his bucket list. As life teaches us through unexpected circumstances, I found my dream reignited through the inspiration of Fred Noble.
Fred has heli-skied over 8 million vertical feet with CMH as their North American Agent, choosing to use his commissions in trade for heli-ski time during the past 38 years. This trip was his most challenging yet – 18 months ago Fred was diagnosed with ALS and he has lost all mobility in his legs. He was determined to celebrate his 75th birthday at the Bugaboos with the first descent on a sit ski, and I was there to help capture the event for a documentary film on his life (see next blog entry for this story). The experience was bittersweet, his unquenchable spirit contagious, and by watching Fred overcome obstacles of this magnitude I realized my excuses were miniscule in comparison.
In reality all of my concerns vanished the minute the helicopter dropped us off besides the magnificent bugaboo spires. CMH invented heli-skiing at the Bugaboos over 45 years ago and they've perfected the experience. The first day our group of 10 women, one man, and two guides had countless fresh tracks on a perfect bluebird day offering unlimited access to the high alpine glaciers.
I was surprised how effortless, fun, and relatively easy the first few runs were vs resort skiing or snowboarding. There's really no comparison – we had endless clean lines to ride, the perfect constant pitch, virgin 6-12 inches of packed powder, and expert guides to lead the way and follow behind to ensure our safety. I'm accustomed to the mantra, "there's no friends on powder days", when everyone races down the first few lifts before the masses shred up the runs or discover the secret powder stash. At CMH, the only inexhaustible resource was our legs though we were replenished each helicopter ride with energy drinks and freshly baked treats.
On the second afternoon when many guests opted for a rest I had the chance to join a group of guides, staff, and several skiers with over a million vertical feet at CMH. At first I was intimidated, but soon found that my level of riding rose to the occasion. Cannon Barrel run was in perfect condition to rip with unrestrained speed: In a few minutes our group traveled over 2,800 vertical feet, stopping only once for a brief rest. I can still hear the hoots and hollers of my fellow skiers, telemarkers, and riders – we made three epic runs that are seared in my mind as my most unforgettable riding experience.
My fellow skiers were fun and relaxed, and our camaraderie was always high. Though we had both expert and virgin heli-skiers, we were a very compatible and tight knit group. I enjoyed not having to fight for my turn to go first and the shouts of encouragement as everyone continued to gain confidence and improve. As a tomboy, I've been accustomed to fighting alpha males for position in adventure sports. I had honestly never considered the fact that I could have more fun joining a group of women who would push my limits – but in a joyful, non-competitive way.
Mid week a series of storms dumped 1-2 feet of fresh snow each day. These conditions were ideal for extensive tree runs with the lightest deepest powder I've ever encountered. One morning I rode with the chef, another snowboarder, enjoying the long easy lines through the trees. Each of us paired up with a buddy and made our own unique call to each other as we traveled; I can still hear the yodel of Seth, our Austrian guide, echoing through the forest..
Everything at CMH is world class, and after a long day on the mountain nothing beats a soak in the hot tub. This was my daily ritual, and on the days when my body gave out I indulged in a 45-minute deep tissue massage expertly applied to the areas most in need of recovery.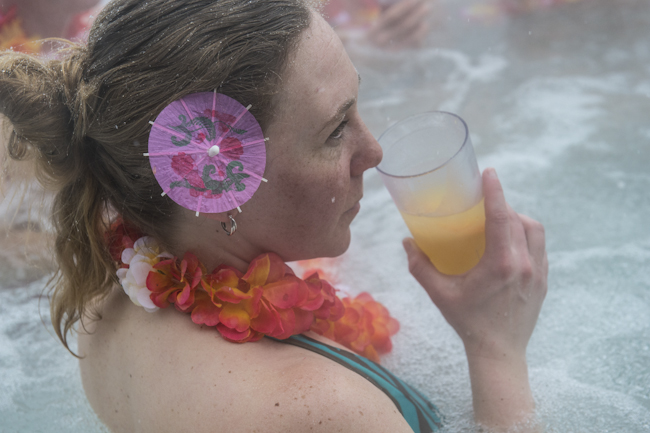 It's tradition on the last evening of the week to dress up in costume, share stories and skits from the most entertaining parts of the trip, and join a dance party after dinner. For details you'll have to wait until I post the video, or for a teaser go to my blog post on Fred's 75th birthday. My only regret from my experience was not conditioning better in advance – next time I'll be prepared for the endless activity!
This trip broke nearly every stereotype and concern I had of heli-skiing. Groups ranged in age from 30 to 75 years old, from expert to first time heli-skiers of varying fitness levels and expertise. Over half our group were women, and though I was the lone snowboarder for most runs the guides were experienced to lead boarders to alternative routes to avoid flats or let the group break the trail when traverses were unavoidable. The one thing we all shared was an unquenchable thirst for skiing or snowboarding; sharing the week with like-minded, passionate adventurers is an incredible experience I'm now addicted to relive as often as possible.
To view the photo gallery, click here: http://andreajohnson.photoshelter.com/gallery/Canadian-Mountain-Holidays-Bugaboos-winter-2012-keyworded-jpeg-gallery/G00006bXvwPD9eRc/C0000hAZQz6N6JNY