Palau: Our Pacific Paradise
Palau, a group of islands in Micronesia, is not a typical stop for independent travelers. Just getting there requires some effort; for us it took four layovers and six days due to our circuitous route and missed flight. Because of its isolation from nearest neighbors (about 800 miles east of the Philippines and 800 miles S.W. of Guam) and population of only about 20,000 residents, once we arrived we were rewarded with an idyllic small-community, tropical island atmosphere. We were amazed to discover that the roads didn't even have names or street signs! After our brief foray into the hustle of S.E. Asia and our imminent return shortly hereafter, we vowed to make the most of Palau's remote natural beauty and tranquility.
Our main challenge to enjoying this Pacific paradise was money. Until recently Palau was an American territory so its currency is in US dollars – we no longer had the advantage of a favorable exchange rate. In addition, since most visitors to Palau are tourists from the US or Japan on short package holidays, prices are reflected accordingly.  For our first few nights we stayed at the cheapest place we could find in the capital city Koror, at the D.W. motel for $50 a night. Although it was clean and the Palaun owners nice, it was bland – not the way we wanted to spend a good hunk of our daily budget. Then serendipitous encounters led us to friendly American expats who found creative solutions to our budget challenge.
Ron Leidich, founder of Planet Blue Sea Kayak Tours, helped us jump start our Palauan explorations. Being a frequent independent traveler himself, Ron understood our situation and worked out an adventurous yet economical plan. Typically he guides day, multi-day, and even several week tours through Palau's famous Rock Islands. Since we couldn't afford the standard package for a multi-day trip, Ron provided the next best option – a do-it-yourself itinerary. He reviewed maps with us of a proposed three-day route, which sounded great, so we happily left the D.W. motel the next morning. After we loaded our two-person sit on top kayak with our camping and cooking gear we headed off following Ron's directions.
Over 340 islands comprise the archipelago of Palau, which doesn't even include the countless number of small rock islands. To our uninitiated eyes they all looked the same, making navigation a challenge. Mid-morning we flagged down a fishing boat to verify where we were on the map, and later that afternoon we caught up to and tagged along with part of Ron's guided tour. When we ventured close to the shorelines of the rock islands we noticed that features, which were hidden from a distance view became easily visible when viewed close up.
Before Ron returned home with his group he pointed us in the right direction towards our next destination, the cathedral cave. Silently gliding through the calm waters of a low entrance, high ceiling cave covered with stalactites was dramatic even without the knowledge of how these formations were created. Unfortunately we only had time for a quick stop before the tide began to lower, exposing patches of reef:  If we had waited any longer approaching our campsite would have become too treacherous.
Camping on a secluded uninhabited island was the ideal way to experience its peaceful natural environment. Once our initial concerns about getting lost disappeared we found it surprisingly simple to fend for ourselves. Our first two nights camping were on Lee Marvin Beach, a beautiful setting complete with a small covered shelter, outhouse, and water basin full of rainwater.
Each day we followed Ron's advice about the best spots to visit and excursions to rarely visited marine lakes and caves; his itinerary minimized our paddling efforts since we traveled the same direction as the prevailing tides. Our kayak was stable and comfortable and best of all its design left our bodies exposed so that we could splash ourselves while still paddling to cool off – very important since Palau is only seven degrees north of the equator thus is consistently hot and humid.
Visiting the German Lighthouse, the highest point in the rock islands, wasn't as easy of an endeavor. WWII cannons, barracks, pill boxes, and other relics were scattered about the route; although an old war road leads the way to the top it is still a hot, tiring trek through the jungle – especially while carrying camping gear, food and water! We pitched our tent on a tiny clearing at the rocky base of the lighthouse. As luck would have it, all night it rained forcing us to put on the fly and turning our tent into a steam sauna. However, the sunset and sunrise view overlooking a large group of the rock islands, and the kudos of respect from the locals upon returning made the jaunt well worth the trouble. Some Palauans thought we were crazy for camping someplace they believed is haunted with the ghosts of Japanese solders who were killed at that location.
The Tarzan Tour can only be done three days a month when the tides are at just the right levels and time of day. Created as an 'extreme adventure' including cliff jumps, rope swings, and cave dives", we couldn't pass up on this opportunity. With Ron's marine biology background  we were able to better understand  the complex ecosystems and explore secret spots he discovered. There were only two other people on our kayak tour (a quiet Russian couple) so for us it was an ideal small group exploration.
Our first stop was Lost Lake, which we entered by kayaking through a small marine tunnel that is only exposed at low tide. This hidden lake had colorful soft coral fans along the entrance and excellent snorkeling that included blue-lipped clams and feathery lionfish. Tarzan Lake was our second stop, and this time the tunnel to enter the lake was so tiny that we had to leave our kayaks tied up at the shoreline of the rock island and snorkel in. Everyone enjoyed swinging from a long overhanging vine and calling out Tarzan yells before dropping into the lake.  For our final big thrill we free dove into the crystal filled air chambers of the Blue Room. The entrance to the first portion of the cave was about 10 feet underwater and the tunnel continued 15 feet or so before opening up so we could swim up to the surface. The second portion of the cave was a quicker swim underwater into a smaller, stalactite filled cavern filled with streaks of light and beautiful blue hue. The third chamber of this cave was a longer swim through a tunnel about 20 feet deep and another 15 feet long – only the guys opted to venture here.
While paddling through these destinations Ron taught us about the nature and geology of the Rock Islands. He used an analogy to explain how the undercut mushroom-shaped limestone formations came into existence: The rock islands have eroded in a similar process as icebergs, which melt unevenly and are eroded by waves causing large chunks of ice to break away.  Initially a large limestone mass pushed up to the surface of the ocean.   Then over thousands of years the triple forces of waves, acids created by rainwater mixing with leaves, and chitins chewing away at the shoreline working their magic. These formations are truly unique, and kayaking through this wonderland for five days only wetted our desire to experience them more in depth.
Palau is most famous as a world-class diving destination known for  big fish, strong currents, and huge wall drop offs.   In a typical day of scuba diving with Sam's Diving Tours we saw a plethora o spectacular sights including: a 40 foot vertical column of spiraling pyramid butterfly fish, several hundred barracuda swimming together in a school, oversized Napoleon Wrasses & Parrot Fish as large as a human, huge turtles, and countless gray, black tip, and white tip reef sharks.
One of our most memorable diving days was at the famous Blue Corner dive site. This dive is truly a sensory overload; on our four previous dives at Blue Corner we drifted with the current and casually hooked in to the edge of the reef wall so that we remained stationary to watch all the action drift by. This dive was a lot different – the current was ripping! When we reached the reef plateau we hooked in and the sensation was incredible – our skin flapped like a sky diving free fall and the water pressure threatened to rip off our masks and regulators. The strong current finally found a weak point – almost simultaneously our reef hooks straightened out under it's force and we both had to grab for a handhold to keep from being 'blown' off the reef. While fighting to hold on, Andrea managed to take a photo – I look like I'm in a wind tunnel.  Twenty-nine minutes later (one of our shorter dives) we floated on the surface so pumped with adrenalin we couldn't contain ourselves. That dive was UNBELIEVABLE – words could never describe it! We both I agreed that out of our cumulative 250 dives that one was definitely the most memorable.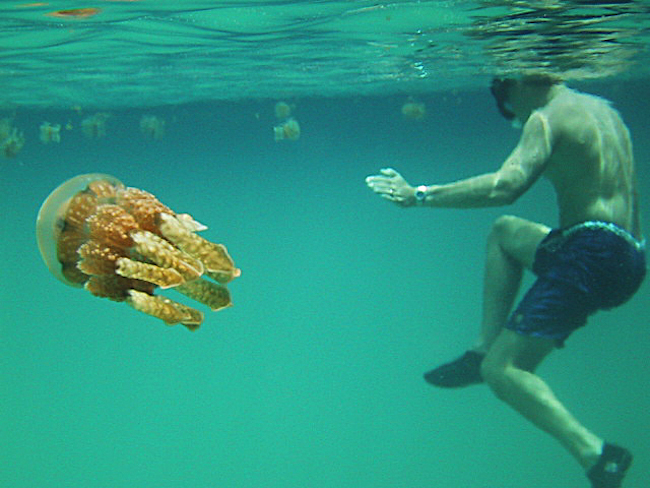 Next on the itinerary was Jellyfish Lake, at the complete opposite end of the spectrum from Blue Corner. Calmly we floated among thousands of non-stinging jellyfish trapped in a marine rock island lake – it was incredible feeling their soft delicate bodies brush against us, a surreal sensory experience. How do you finish a day like this? Have a relaxing tasty lunch on a white sandy beach then dive on a WWII sunken cargo shipwreck. Looming up from 100 foot plus depths the Iro's huge bulk is easily visible & still intact: It's body, masts, and big guns have been transformed into a colorful coral garden paradise, completely encrusted with razor clams & home to many fish species.
That day of scuba diving may never be topped. Palau is world class and our efforts to get there were rewarded beyond our wildest imaginations. Every single dive had so many things to see we could go back time and time again and never experience it all – but we'll certainly try again anyway!
When we weren't scuba diving or kayaking we found other adventures on Babeldaob, the largest island in Palau. One day we joined Greg, an expat lawyer who formerly worked in Portland, for a self guided four-wheel drive tour around the island.  Bouncing around the rough clay roads three hours up to the far tip of the island, we saw ancient stone monoliths, a Bai- an interestingly decorated men's house, and swam under a waterfall. It was a great way to meet the locals since a lack of road signs necessitated many stops.
PHOTOs:  waterfall, bai
We were surprised by the number of Pacific Northwest expats living in Palau.  Sam, the owner of Sam's Diving Tours, is a Pacific Northwest expat who grew up in Olympia, WA and moved to Palau over 20 years ago. Starting his own diving operation and building on his success, he has established a very successful business while still managing to create a casual and comfortable atmosphere. Sam's generosity provided us with an interesting place to call home – his personal sailboat anchored a short kayak paddle away.
Sam's Bottom Time Bar & Grill is like the "Cheers" bar of Koror. Hanging out at Bottom Time we made new friends, exchanged travel stories, drank Red Rooster beer, and ate the freshest and cheapest sashimi we've ever discovered. Dermot, Sam's general manager originally from Ireland, came to Palau to escape to the Rock Islands. He has traveled and sailed to many great places but Palau has hooked and kept him. Dermot's Pacific N.W. connection was a three-month stay in Portland while refurbishing a sailboat (his favorite place was… Kell's Irish Pub of course!)   Dermot's Palauan wife, Kaud, fell in love with my turtle necklace – I considered trading it in exchange for diving but just couldn't let it go. She treated us to a huge mangrove crab, a local delicacy, which we enjoyed to its last little morsel. Ron, founder of Planet Blue Kayak Tours, is a graduate from Oregon State University. His enthusiastic spirit and can-do attitude was the catalyst that created our Palauan good fortune. He loves Palau and its nature, so we volunteered to help him protect it by spending half a day collecting destructive reef killing "crown of thorns" starfish – an experience we thoroughly enjoyed.
It's not always the place, often it's the people we meet that brings us the best memories. Palau and Sam's Dive Tours crew offered us an abundance of both.  Palau is definitely another place we'll come back to visit!