Timing is everything: The transition between summer and fall this season, like harvest, has been quick and dramatic. With rain forecast for the next 10 days, I was able to find one morning with sunlight, fog, and optimum fall colors in the vineyards.  There's no better way to cover a lot of ground quickly than an aerial helicopter shoot.  Here's a few highlights:

Brilliant golden vineyard contrast with surrounding hillside in this panoramic photo over WillaKenzie Estate, Willamette Valley, Oregon.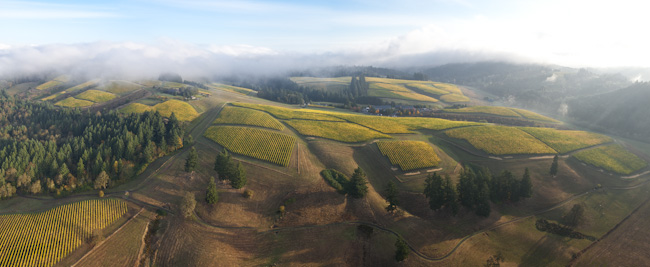 Fog began rolling in over the hill quickly, this view looking north over Willakenzie Estate about 6 minutes after the first panoramic photo.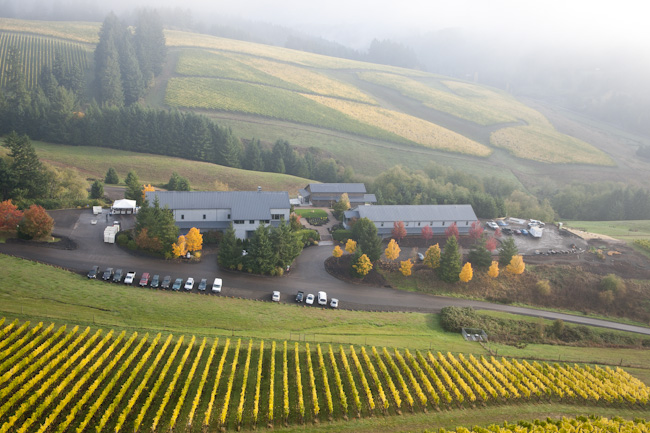 Warm hues of a foggy fall morning showcase new tasting room at WillaKenzie Estate.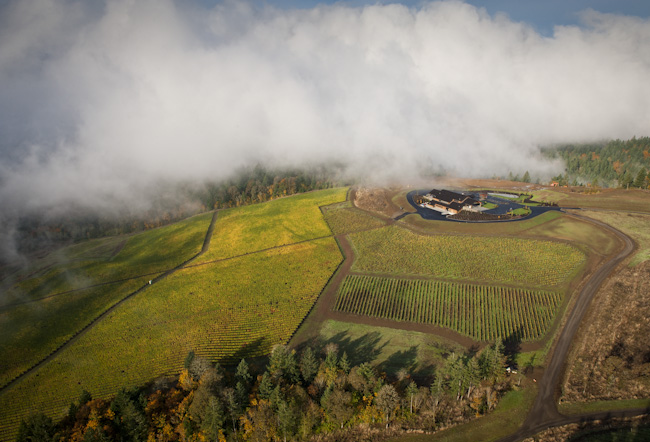 Colene Clemens recently completed construction for their tasting room near WillaKenzie Estate.  Fog skirts around the winery & tasting room, perched above estate vineyards.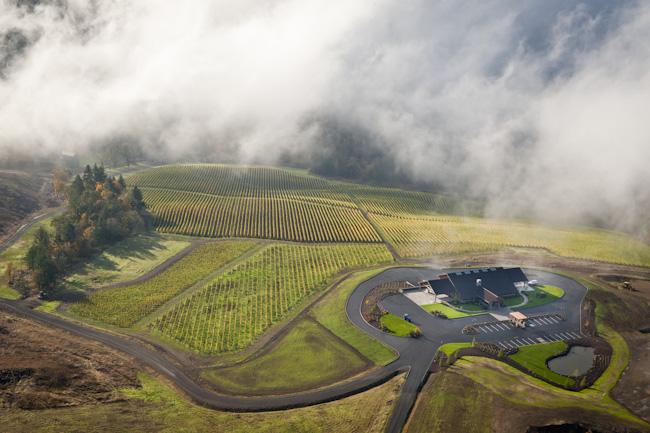 A 180 degrees view of Colene Clemens Winery as the fog continues to roll in.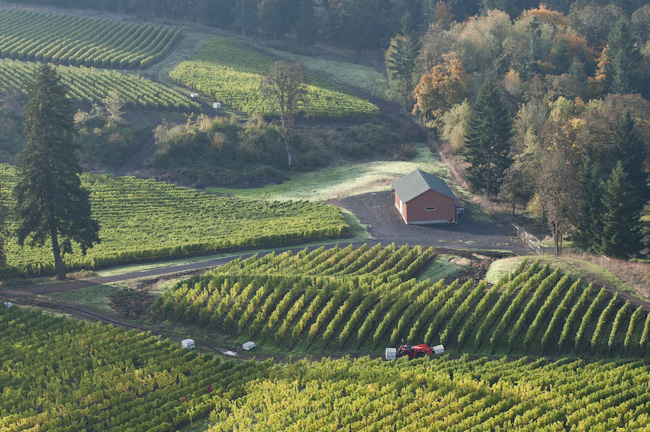 Placing harvest bins in preparation of pick later that morning at Alexana Vineyards, Dundee Hills, Oregon.
I love aerial photography, it is my favorite way to capture unique landscapes with a sense of place and drama. I've been fortunate to fly with the same pilot for the past 7 years, fine-tuning my expertise on shoots throughout Oregon, Washington, and California. I'm often able to piggy-back several properties on the same shoot, and these photographs get more mileage than any other type of photography in books, magazine features and covers, and general marketing material.  It's a surprisingly reasonable expense – please contact me if you are interested in a custom quote.
Here's links to a few websites of wineries that have utilized aerial photography uniquely:
Penner-Ash http://www.pennerash.com/
WillaKenzie Estate http://www.willakenzie.com/index.html
Hyland Vineyard Estates http://oregonvineyardproperty.com/hyland-vineyard-estates/
and a link to more aerial photos on my site
http://www.photoshelter.com/mem/gallery/gallery-show/G0000bbu5OzbTx4c