New Zealand: the 'working stiff' tour
We always hoped to meet up with friends during our travels, so we were happily surprised when Michelle Colling (a childhood friend) made plans to do so in New Zealand. Michelle only had time for a 10 day vacation to explore Kiwi culture, but her boundless energy & her traveling companion (a native New Zealander, Alan Tinsley) made an ambitious plan possible. They scheduled their trip beforehand, emailed us their itinerary, and we adjusted our plans so we would arrive in New Zealand in time to tag along in the back seat of their rental car to see New Zealand at 120 kilometers per hour.
Adjusting to an American 'working stiff' tour proved to be a more difficult than anticipated . . . we were always scurrying to keep up. Quickly zig-zagging from Auckland to Queenstown (similar to traveling from San Diego to Vancouver, B.C.), we packed in as many experiences as possible. The sudden transition from long term travelers to vacation mode made us realize how much we'd already changed our priorities. In addition, a tropical bug I caught in Fiji conspired to slow us down. Although we struggled with the schedule, we did enjoy not having to sort out the daily details and the instant upgrade to our travel style. Michelle & Alan were short on time but not cash; dining out, staying in Bed & Breakfasts, and nice lodges became our temporary new standard. The value of our U.S. dollar vs. the NZ dollar made splurging even more tempting (a B&B that was $100 NZ dollars cost us only $44 U.S. dollars).
The first night the four of us spent together saw lots of fireworks…we coincidentally happened to be in Christchurch on the eve of its 150th anniversary celebration. The cathedral square in the center of town lit up with a multimedia show that included a hodgepodge of live performances including Maori dancers, military helicopters, sheepherders, building rappelers, and a fireworks finale. The next day we drove over a scenic alpine pass stopping for a quick hike to the Franz Josef Glacier. Dale reluctantly traded his flip-flops for boots, which promptly gave him blisters (he hadn't worn shoes for months).
Our day of driving from the east to the west coast of the south island ended in Hokatika, a tiny coastal town. The B&B hosts recommended dinner at Trappers, the nicest restaurant around, which served a wide variety of wild game food. Maybe we should have been concerned that we were the only diners in the restaurant (we had recently seen lots of road kill…)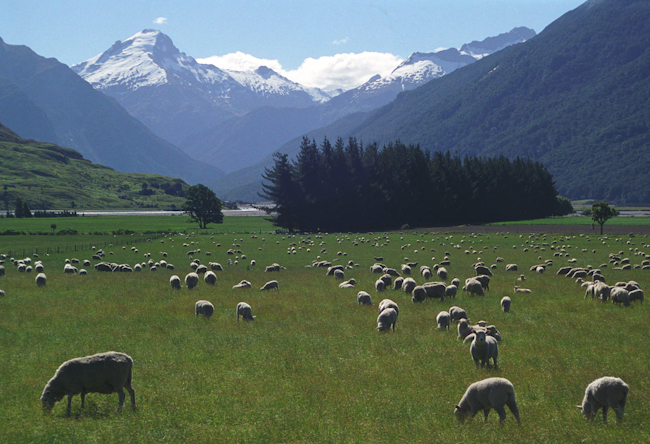 Our next stop was the glacier area of New Zealand's highest peak, Mt. Cook (12,300 feet). Upon arrival at the luxurious Heritage Lodge, we were surprised to get a free upgrade from a budget to mountain view room so we could be close to our friends. The bigger surprise was that everyone in the observation lounge had a perfect view into our room. Of the many adventurous activities around Mt. Cook, we spent half a day doing something educational: a glacier tour. A small boat brought us across a glacial lake for an up close view of the icebergs and Tasman Glacier. As we climbed on top of an expecially large iceberg our guide explained how it was formed
Our final destination while traveling with Michelle & Alan was a town similar to Hood River, Oregon – Queenstown, the adrenalin capital of the world. We only had a few days to sample the plethora of activities, so we vowed to return later when we'd have more time. The double espresso tour ended even quicker than it began, and we were sad to say goodbye to Michelle & Alan.
PHOTO: Xmas photo of us @ winery
Since we'd already blown our New Zealand budget, we decided to continue splurging during the holidays. A summertime Christmas was a unique experience for us. The radio stations still played I'm Dreaming of a White Christmas, but everyone's mind was set on planning their holiday on New Zealand's white sandy beaches. We were lucky to get last minute reservations at a great B&B in Wellington, New Zealand's capital city. Our hosts were a former chef and restaurant owner who cooked a fabulous Christmas Eve dinner, Christmas breakfast and BBQ lunch later that day.
Photo: B&B owners
Stuffed, but staying with the Christmas tradition we met up with our traveling friend Jay and ate Christmas dinner with his 'adopted' Kiwi family. This feast ended with 'Bombed Alaska', an ice cream filled berry moraine-covered mountain they lit on fire. Although we missed our family and friends during the holidays, the warm Kiwi hospitality made our Christmas away from home special.
With the gluttony of the holiday season behind us, it was time for us to tighten our belts (ouch!) and find creative ways to recover from our budget blowout. Luckily New Zealand offers a plethora of innovative lodging options. One of our more memorable experiences was at Big Bird farm stay near the Waitomo caves. We stayed in a converted bunkhouse which included a kitchen, bathroom with claw foot tub, and enough room for about 15 people to sleep! Amazingly, we had the place to ourselves. Some farm stays require guests to help with the chores, but at ours we just tagged along with the owner, Ross, and 'helped' him feed the ostriches. As an added bonus, Ross took us on an informative nighttime bush walk to see glowworms. These fly larvae glow in the dark to attract their prey, creating a beautiful celestial effect against the black canyon walls.
Camping at holiday parks are a popular alternative to expensive motels. They usually provide great amenities -kitchens, outdoor BBQ areas, full bathrooms, laundry facilities, but have very small 'camp sites' clustered together with little privacy and lots of screaming kids. We soon discovered this is the most common way Kiwis families travel on their summer holidays between Dec 26 to Jan 26 – everyplace was crowded. A few of our camping highlights included being woken up by horses galloping by our tent at the 'Racetrack Holiday Park', and sleeping nearby thermal springs (similar to Yellowstone) and an early morning dip at a hot water beach. During low tide at hot water beach everyone searched for the best spot to dig a hole in the sand to create a natural thermal hot tub.
The best alternative budget travel accommodations is staying with 'family'. Before we left the States, Dale had written a letter to Peter Bootsma who we thought was related on his mom's Dutch side of the family. We received a prompt email response that Peter was not related but nevertheless invited us to come stay at his Auckland home. We spent two nights at his house and were treated like family with wonderful dinners and friendly conversation. With our budget back under control, we could now experience the excitement of those crazy Kiwi activities.
The Abel Tasman Trail

What began as a beautiful trek transformed into a grueling endeavor. Our plan was to take a two-hour jet boat tour to the end of the Abel Tasman trail and leisurely walk back to our car. The guidebook said this 22-mile trek included only 500 feet elevation change and could 'reasonably' be completed in 3-4 days. The description continued stating that the trek was well trodden and included a variety of terrain such as sandy beaches, estuary crossings, and smooth bush trails.
PHOTO: us with packs
We started our trek with smiles on our faces as we hopped from the boat at Mutton Cove, a peaceful beach five miles beyond the regular route. But our moods quickly changed as the boat driver handed us our packs, exclaiming, "Ugh! You'll have shorter legs before you're done, mate. This is the heaviest pack I've felt all year!"
With that cheerful comment we were left standing at the shoreline. After a few quick pictures we were off to our first campsite. Walking with heavy packs (30lbs and 50lbs) on soft sand quickly turned an easy passage into one hell of a workout; with just 500 yards behind us we were already panting in the heat. As the trek progressed we were rewarded both with stunning views and the unsettling realization that each scenic bay was sandwiched between steep mountain ridges. Six hours later we arrived at our first 'beach' campsite. Unfortunately it was located 50 yards into the bush infested with sand flies.
There's a Maori legend about these pesky little critters: It's believed that when the natives first arrived in New Zealand, life was too easy. Food and shelter was plentiful and the climate mild, so the Maoris became very lazy. This angered the chief, who wanted his people to be productive, so he asked the gods for an antidote. The gods answered the chief's request by sending tiny biting sand flies, which quickly attack anything not moving. Today we had to laugh at the irony of our situation: We'd come so far to enjoy nature only to be imprisoned by it!
PHOTO: anchorage beach view
We awoke early (6 am) after a night of little sleep. The resident possums knew that most backpackers inadvertently provide food, thus they scrounged around our tent all night looking for forgotten morsels. The second day's trek included two large estuaries, which could only be crossed two hours on either side of low tide (7:30 am). A treat after our first early morning crossing was a nice hot breakfast at the only lodge near the trail. By this time our sandals had given us blisters where the sand and water rubbed our feet raw. So we laced up our boots, reduced our weight by giving away non-essential food to the staff, and raced off to the second estuary crossing. After 6 more hours of continuous trudging we arrived at our second campsite to find that all the sites were full. Too exhausted to continue, we pitched our tent half on the trail and half into the downhill bushes. This night we slept soundly regardless of the location.
PHOTO: Cleopatra's pool & dale
Day three began with a slow start to ease our aching feet. After breakfast we put on our packs and Dale affectionately named his "the beast". Our highlight of the day was a rest at Cleopatra's pool, our lunch stop. The distance to cover this day was shorter, and although the elevation change was only 500 feet, the trail seemed to constantly climb and descend. The easy way out of the hike – an expensive water taxi – was beginning to look more appealing. But, since we'd made it this far we decided to finish the hike by foot. Dale was like a pack mule rushing to the barn, suddenly finding energy as we approached our last night's destination. This campsite was the most beautiful yet – a secluded beach with only three other tents. The tranquility was only broken by a Kiwi family on their water ski boat : We tried to buy a beer off them, but they thought we were joking and just laughed.
As daylight broke on our final morning, it began to lightly rain. We quickly munched our granola bars and slurped our mini fruit box drinks in order to pack the tent before the downpour. Wisely we had brought waterproof pants, jackets, and pack covers, all of which were necessary for our final three hours on the trail. That night we rewarded ourselves to a nice B&B with a hot tub to pamper our aching bodies. The hot tub had broken the day before, but a shower, bed, and rest after four days without was treat enough. It may seem that we didn't enjoy any part of our Abel Tasman trek. At one of our more frustrating moments Dale commented, "Someday we'll smile and laugh when we look back on this experience". We did both as we wrote this story.
Adrenalin Activities
An incredible variety of crazy Kiwi sports and innovative package tours tempts even the most frugal of travelers. We did them all, draining our budget but thoroughly enjoying many experiences we couldn't have found elsewhere. We've ranked our favorite activities below in order of increasing adrenaline rush:
1. Kayaking Milford Sound
An early morning kayak was a beautiful way to experience the Milford fiord. We were fortunate to see dolphins, seals, and rainbows. To give perspective on how large this area is, the boat in the background of the photo below was a huge cruise ship.
On our second day in Fiordland we were treated to a sunny, crisp morning, which is rare since Milford Sound is one of the wettest places on earth. The steep walls carved by glaciers thousands of years ago create their own weather patterns.
Nearby the Milford Sound we also walked to Key Summit Peak, the first hour of the Routeburn trail, to be rewarded with a clear view of a mountaintop tarn (pond) reflecting the Southern Alps. Kiwis are very proud of their hiking trails, and rightly so.
2, 3, 4: The triple combo: Shotover jet boat, white water rafting, & helicopter ride
Unfortunately, high winds cancelled the helicopter portion, so instead we took an adventurous bus ride through Skipper's Canyon. This old miners road was so treacherous that rental cars were forbidden to travel on it, and a rafting bus went off the edge on the day of our trip. The shotover jet boat was a buzz. It came within inches of the canyon walls while traveling at 60 mph with it's huge 400hp motor that needed only inches of water to maneuver. The 360-degree spins got everyone wet.
PHOTO: shotover boat

5. Dolphin Encounter
We've been lucky enough to be surprised by dolphins several times so far in our travels, but we'd never been able to spend time with them up close in the water. So when we learned that Dolphin Encounters brought small groups to swim with dolphins in their natural environment, we were excited to try this unique experience.
Since dusky dolphins inhabit the waters off the Kaikora coast year round, our guides were able to accurately predict the dolphin's movements. Our boat approached a pod of about 100-150 dolphins & we witnessed their playful and acrobatic antics. However we found it was easier to see the dolphins above the water than below since the ocean was cold and murky, and with our snorkels and wetsuits we were clumsy in comparison to their quick, fluid movements. Apparently dolphins have bouts of activity depending upon their mood, and while they were curious to observe us they weren't as playful when we were swimming nearby. Still, we preferred being with the dolphins in the wild with little disturbance to their natural activities vs. seeing trained dolphins in a swimming pool. As our boat returned to the harbor we also saw hector dolphins (the smallest and rarest of all species) and a blue shark swimming at the surface.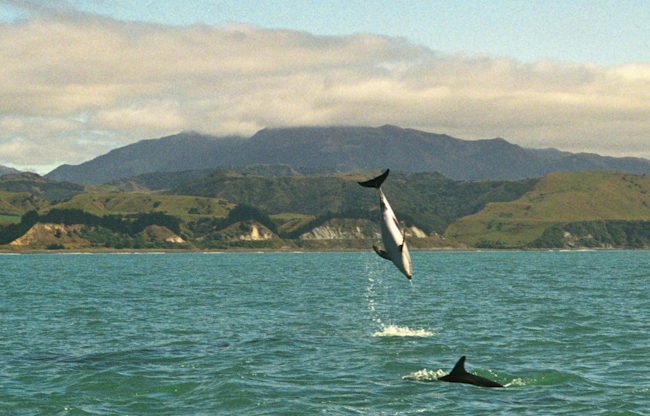 6. Black Water Caving
We looked like rodeo clowns in our white rubber boots, purple shorts, 5 mil wetsuits, and goofy miner's hats. But these costumes were necessary for our abseiling, spelunking, and tubing exploration. Instead of joining the busloads of tourists, we chose the adventurous way to experience the Waitomo glow worm caves. Our small group consisted of two guides and one other tourist, a middle-aged man named Colin, who also happened to be from Portland, OR.
Part I – Abseiling
We were instructed to dangle on a rope 100 feet above a cavern floor, and slowly lower ourselves through a narrow gap into the large cave. Colin was nervous, so before he had a chance to back out we offered to let him go first. As he stepped off the platform with an iron grip on his rope, we thought he was going to have a heart attack. Once our feet hit the limestone floor, we scrambled over rocks to do the 'flying squirrel'. We now attached our harnesses to a pulley to hang feet first and zip along a cable deeper into the cave.
Part II – Tubing
After enjoying a peaceful lunch in total darkness to observe the glow worms illuminating the cave, it was time to jump into the frigid water. With our inner tubes around us we leapt from a ledge feet first and landed ten feet below, our splashes echoing off the cave walls. We continued to drift along this slow moving river gazing endless stretches of tiny flow worm lights flickering above.
Part III – Spelunking
We swam, crawled, and climbed our way through the rest of the cave passages. When we approached a waterfall we were surprised to be instructed to climb it by straddling the gushing water between our legs. Once again, Colin was on the verge of a heart attack. Four hours after we began, we emerged from the cave onto a forest trail, startling a couple of tourists who wondered where the rodeo clowns had come from.
PHOTO: collage abseiling, tubing, waterfall
7. Fly By Wire
Another innovative Kiwi invention is Fly By Wire. Our small craft dangled 300 feet above the canyon floor from an overhead wire. We piloted it at speeds of over 100mph, and could steer it in any direction including falling backwards. With the proper turns and speed we could get to vertical position before heading back across the canyon in a pendulum motion.- the rush of speed and views from the highest point were breathtaking.
PHOTO: fly by wire
8. River Surfing
This sport is white water kayaking meets body boarding. Dale had seen river surfing on T.V. during our many hours of watching the travel channel, and placed this activity at the top of his must do list. Although we ran only class III rapids, from our perspective the waves seemed quite large. We were exhausted after a 20 minute run – fortunately we were able to rest before we did it all again. The highlights included playing in whirlpools and squirting underneath the water PHOTO: river surfing collage
9. Tandem Bungee Jump
Here's a case where a picture speaks 1,000 words. This bridge was 150 feet tall and in 1988 it the site of the first commercial bungee jump in the world. After three months of constant companionship we decided, "Why not jump together?" Strapped in at our ankles we leapt without hesitation.
10. Tandem Skydiving
The grand finale of our adrenalin activities took us to 12,000 feet for fantastic views of the Fox Glacier, combining a 20 minute Southern Alps sightseeing tour with a 45 second free fall tandem skydiving. Jumping with a big "Waahooo!" was the ultimate way to end our Kiwi adventures.
PHOTO: skydiving collage
Kiwi Reflections:
During our six weeks of driving throughout the North & South Islands of New Zealand, we spent our time in the car discussing many strange, funny, or just unique Kiwi tidbits:
1. Strange roads: As if driving on the left-hand side with all the car controls backwards wasn't challenge enough. We drove 3,500 miles and saw many…
• One-lane bridges. Courtesy granted right of way. We don't think this would work in America. To make it even more challenging some bridges had railroad tracks down their center & were located on a blind corner.
• Roundabouts. Better than 4 way stops. They're simple – if a car is approaching your driver's side door, you stop. Otherwise, go.
• Not a straight road in the entire country. A carsick passenger's nightmare.
• Funny signs Photo: car with parachute
• Interesting road safety campaign. Many "DEAD" billboards such as "You'll be DEAD a long time, what's the hurry?" and "Is it DEAD clear to pass?".
• Sheep provide entertainment if you're bored driving – honking at them causes them to stampede.
2. Popular food. Contrary to their reputation, Kiwis enjoy more than just meat pies and lamb chops.
• Kiwis love beetroot. This is on everything unless you request it to be removed. We thought, "Why put something on your plate that turns everything purple?"
• Mmm…Tip Top ice cream. Per capita, Kiwis consume more ice cream than any other country.
• Savories – we still haven't been able to get a straight answer as to what's inside these pastries.
• Yummy wines and loads of wineries offering tastings.
• Lack of French influence (the French are very unpopular since they began nuclear testing in the South Pacific and bombed the Kiwi Rainbow Warrior anti-nuclear peace ship). We never found baguettes, crepes, or French wine. French fries are called 'hot chips' and French toast is called 'egg bread'.
3. Sand fly bites itch more and last longer than mosquito bites.
4. Mail is still delivered everywhere by bicycle
5. Kiwis will lend a complete stranger their car.
6. Only 3 T.V. channels. One consists only of American re-runs.
7. Every Kiwi is an ambassador for his or her own country. They're always excited to help visitors with friendly tips.
8. Fun phrases such as "Good as gold" (often shortened to "Good as") and "Good on ya".
9. The safer a community was, the more adrenaline activities provided
10. Possums: Pests turned to profit. Kiwiland is being over run by them, so Kiwis have begun a resourceful solution. Possum fur is now made into sweaters, foot & nipple warmers, and stuffed animals, which are commonly sold at tourist shops.