Looking for an adrenalin rush? Check out our video of CMH's newest summer adventure, dramatic scenery where the Bobbie Burns guides have developed a new Conrad Glacier Experience for 2012 with bridges, ziplines and waterfalls.
CMH used the our video to launch 'The Wildest New Adventure in North America".
The CMH blog written by Topher Donahue also interviews Bruce Howatt, the manager of CMH Bobbie Burns – here's an excerpt from his post: "You're right. It isn't a via ferrata nor is it anywhere close to a traditional hike. The trip is hiking, navigating wild canyons using bridges and rungs, ascending colourful rock slabs right next to waterfalls, zipline crossings, traversing rock walls next to a glacier and, coming soon, more climbing, waterfalls and hopefully some crevasse crossings. All this is mixed into some of the most scenic, mind-blowing, wild mountain hiking you can imagine. Blue glaciers, dark orange rock and bright green ponds are everywhere."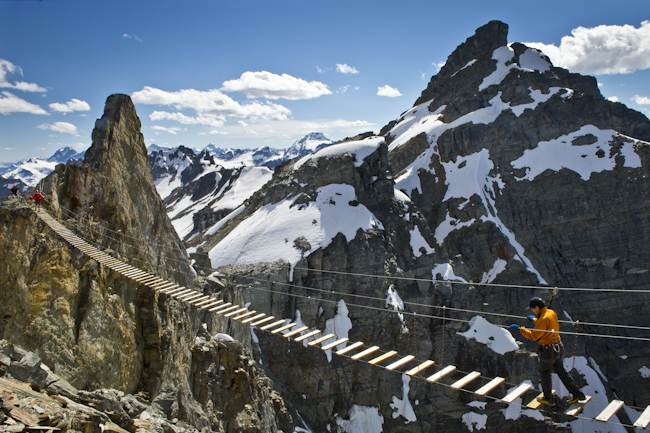 An exhilarating excursion to the summit of Mt. Nimbus along North America\'s longest and most extensive via ferrata route. Deep in the Purcell mountains, the Bobbie Burns mountain guides designed and created a Via Ferrata (Italian for \"Iron Way\")
We also enjoyed more 'traditional' heli-hiking excursions from the Bobbie Burns and Bugaboos base lodges, though the experiences were far from any other hiking experience I've encountered in the world.
Access to spectacular varied scenery was endless with the helicopter dropping us off where the best weather and conditions prevailed. I spent a month 'roughing it' hiking to Everest Base camp, and while the Himalayan views certainly rivaled Canada I've never expeienced adventures based from refined, remote mountain lodges with a highly-trained pastry & head chef cooking with health, flavour, and presentation in mind, using the finest fresh Western Canadian ingredients!
Here's a few last vantage points, I've created 360 degree virtual reality tours of two locations, click here to view (you'll need a fast internet connection to view the detailed hd panos)
http://blog.andreajohnsonphotography.com/portfolios/projects/360-panoramic
For 30+ years CMH has been guiding guests on extraordinary lodge-based journeys in BC's Canadian Rockies. Here's a link to their website and blog with more details about these adventures:
http://blog.canadianmountainholidays.com/the-adventure/bid/76933/The-Wildest-New-Adventure-in-North-America