I'm regularly asked for tips by wineries, marketing & public relations firms, and wine associations how to create an effective image library.  Specific needs include utilizing photos on websites to inspire consumers to visit, in press releases to gain more editorial exposure & in advertising campaigns to increase awareness for the region. Since 2003 I've created over 100 photo libraries for wineries & tourism associations, where my background as a photojournalist has helped me craft an impactful story through imagery.
In Cole Danehower's presentation "Optimizing your Brand's story", he moderated a panel of journalists & PR agencies for winery specific marketing tips. Here's a summary of quotes on the importance of photography: "Those with the best pictures win, if you're only going to do one thing this year for your marketing, invest in photography & partner with a photographer that understands your brand and their style reflects your story" "Images are the new headline. 90% of info transmitted into our brain are visual, visuals transmit 60,000x faster than text, and photos are so easy to share."
Since 2009 I've increasingly expanded my expertise into building video b-roll libraries for wineries &  tourism organizations.  One of the key lessons I've learned in video is that you can never have too much video b-roll to use for projects. More planning is needed to create video b-roll libraries, but the same principles apply – timeless, sense of place, storytelling video clips with compelling visuals to captivate the viewers attention.
When carefully planned, video and photography can be captured on the same shoot; this is especially relevant for events like harvest, spectacular sunsets or sunrises, and lifestyle shoots involving many models and styling where it would be cost prohibitive or impossible to reproduce the same scene on different days. Several cameras can be set up to capture the action from multiple angles, including time-lapse, drone aerials, adding camera motion with a slider or jib, etc, and ideally two shooters work in close tandem with similar aesthetics for each scene.
Examples from my Drone Reel of wine regions around the world, each with a distinct sense of place:
I've compiled main tips I've learned in the past two decades from photo and video requests from magazine editors, designers, and tourism organizations:
#1 request – Sense of place. What does this mean? A photo or video of a vineyard can look like any other vineyard around the world unless care is taken to focus on the land's unique aspects in the best light. It's very challenging to tell a compelling, unique story in just one photo, but with reduced editorial space and attention spans this can be the critical deciding factor if you get coverage.
Mt. Hood is an iconic backdrop to many of Oregon's wine regions, and with people in the landscape it helps the viewer visualize creating this experience for themselves.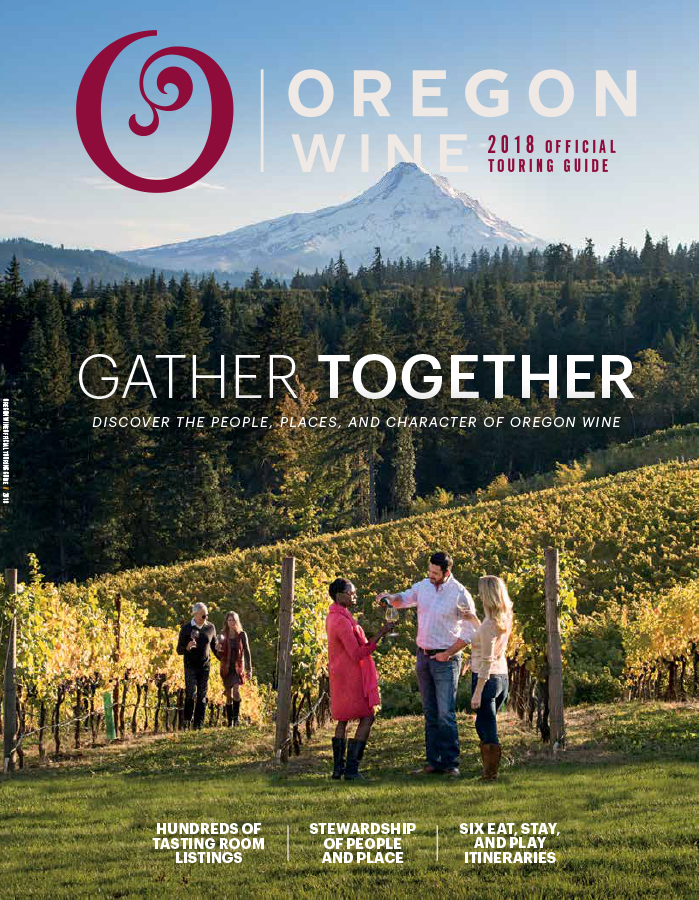 This aerial photo of Penner-Ash winery & estate vineyard has been on two magazine covers, the opening spread in the Wine Spectator Oregon story, and countless other stories and marketing collateral: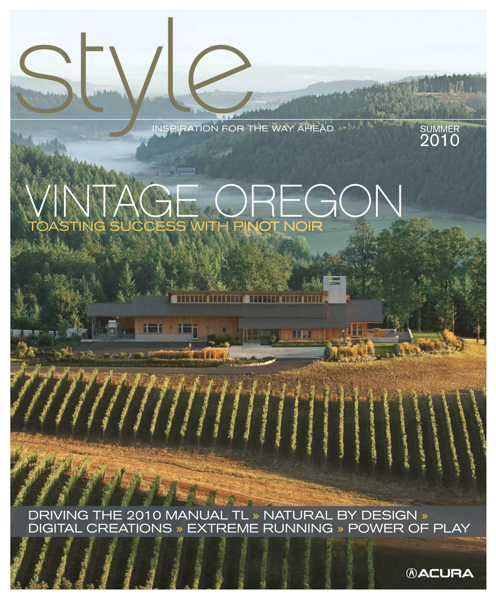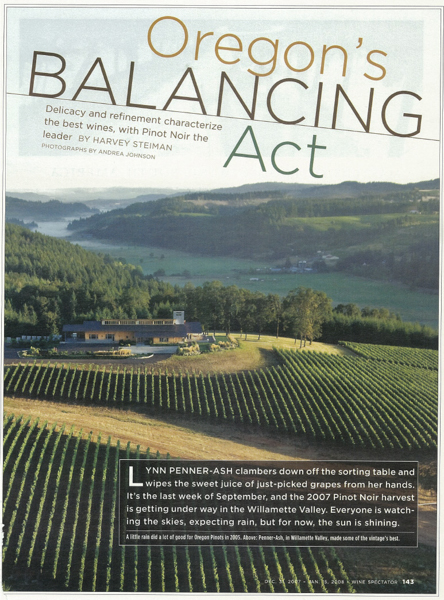 Aerial photography & video is one of the best ways to convey a sense of place
Dramatic weather or lighting always captures attention:
A good example of a website using sense of place video b-roll,  The Willamette Valley Vineyard Association website that incorporated my video b-roll to their homepage:
https://www.willamettewines.com
#2 request – panoramics or verticals – panoramics for website, newsletter, or email blasts and vertical photos with room for type for magazine covers.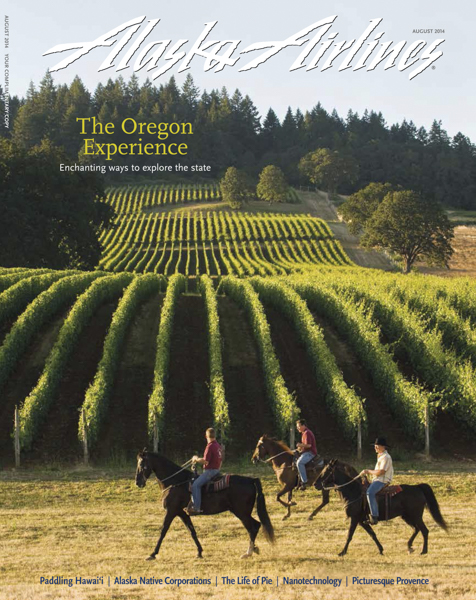 #3 request – "'environmental lifestyle, portraits, details, or product shots" What does this mean? Photographs that tell a story but aren't overly manipulated – while fine for your instagram account, publications need consistency of style and certain filters can instantly date your images or make it difficult for those photos to fit into a larger story seamlessly. An environmental portrait can still show you in your best light, and be retouched – but retouching should not be noticeable, and the background should preferably tell a story about your winery. Same specifications for product and detail shots, which make great fillers in small spaces.  Another tip – animals are always popular!
#4 request – tell me a compelling story through visuals. When there's space to tell your story in a series of images, make sure to maximize this opportunity – on your website, in slideshows, and have options ready to provide for special requests. Here's examples of wineries and wine associations that I've worked with that have done a great job of creating strong image libraries, and utilized these on their websites – please click on the below links to view.  Increasingly these websites incorporate both photography and video B-roll to communicate their story:
Specific Photo & Video library examples:
Penner-Ash – https://www.pennerash.com
Penner-Ash is one of the first wineries I began working with extensively, and they recently rebranded all their visual assets to include video b-roll to their home page and individual pages.
https://andreajohnson.photoshelter.com/gallery/Penner-Ash-winery-image-library-example/G0000GNGNGHmY9ew/C0000KcTupEFLE8s
Christophe Baron:  Cayuse + Horsepower + Hors Catégorie + Champagne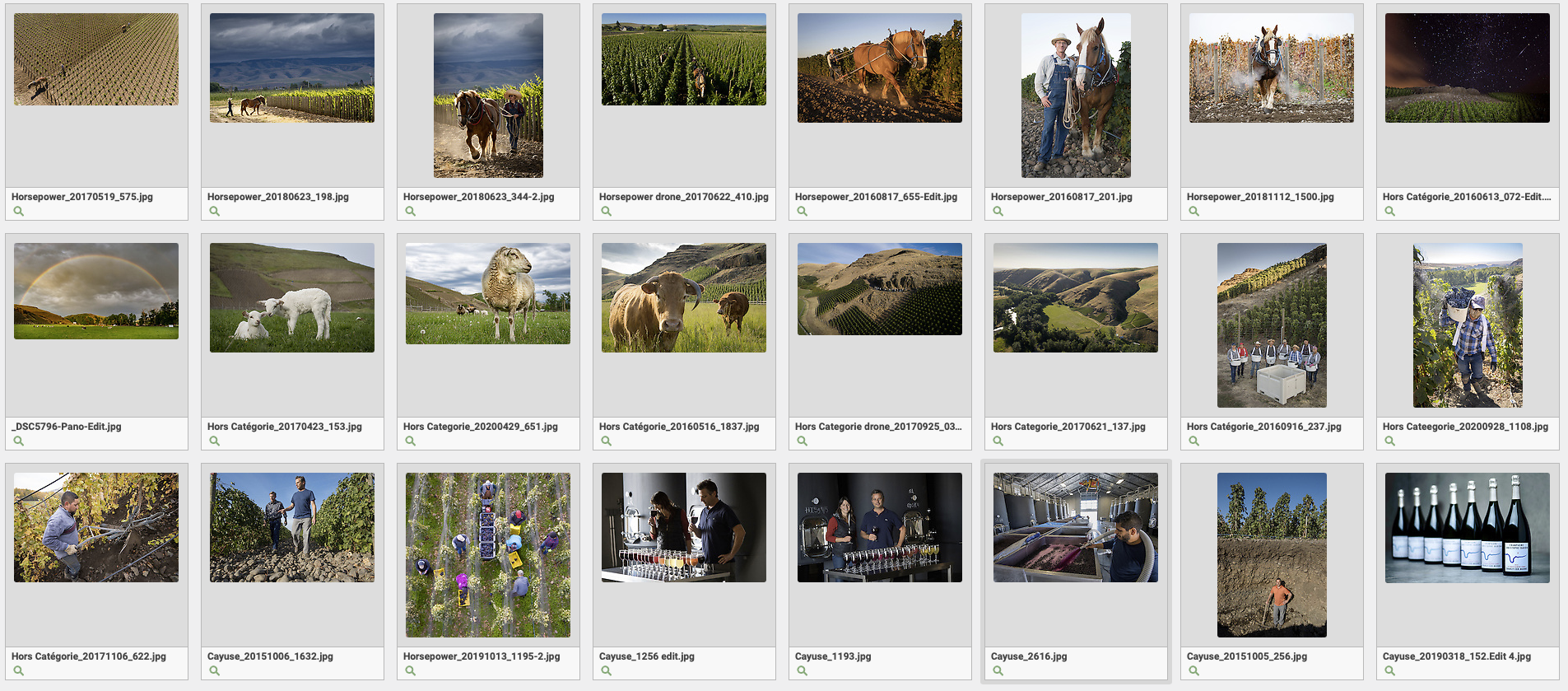 https://andreajohnson.photoshelter.com/gallery/Cayuse-Horsepower-Hors-Categorie-Champagne/G0000F54TNVyhWKc
Kyle MacLachlan – https://www.pursuedbybearwine.com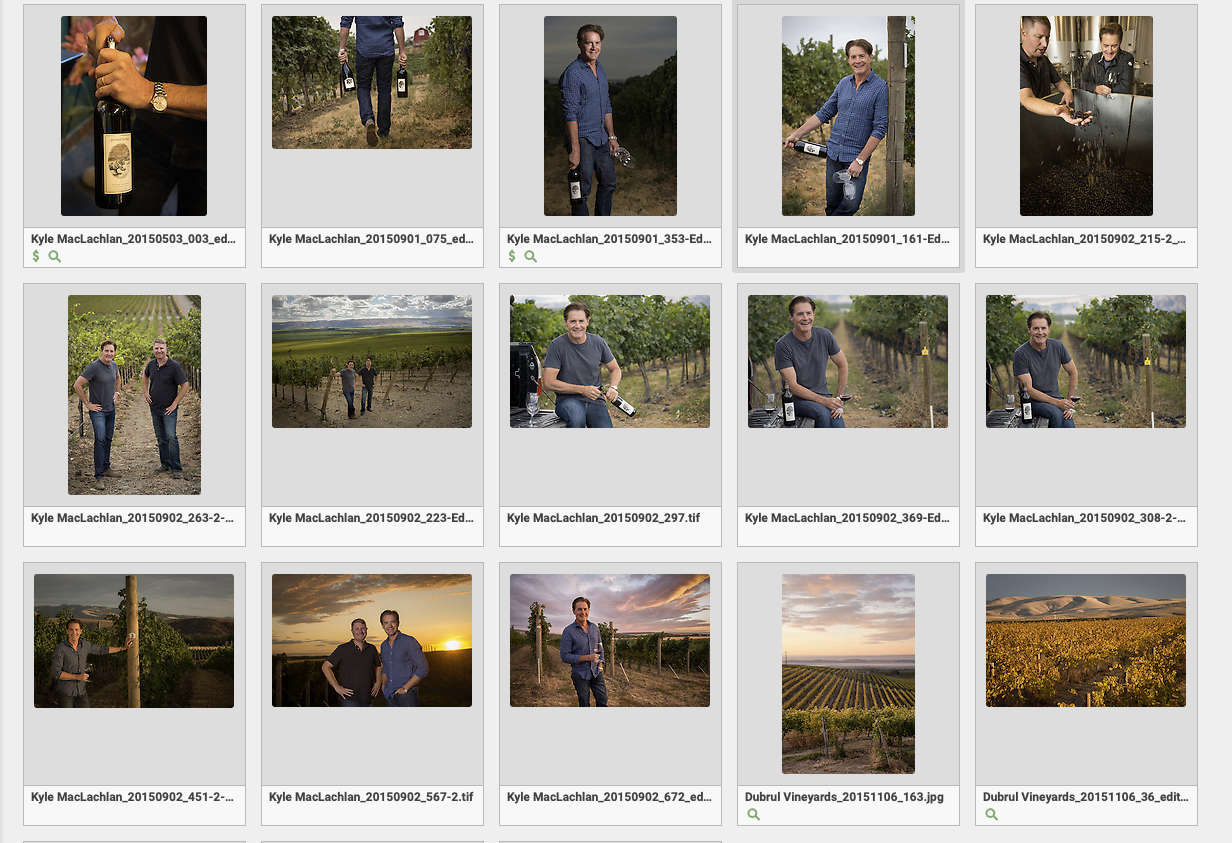 https://andreajohnson.photoshelter.com/gallery/Kyle-MacLachlan-Pursued-by-Bear-winery-image-library-example/G00000Ffa2ybmVqM/C0000KcTupEFLE8s
Et Fille – https://www.etfillewines.com/vineyards
Et Fille rebranded their entire website with video, which is incorporated into their home page and multiple individual pages: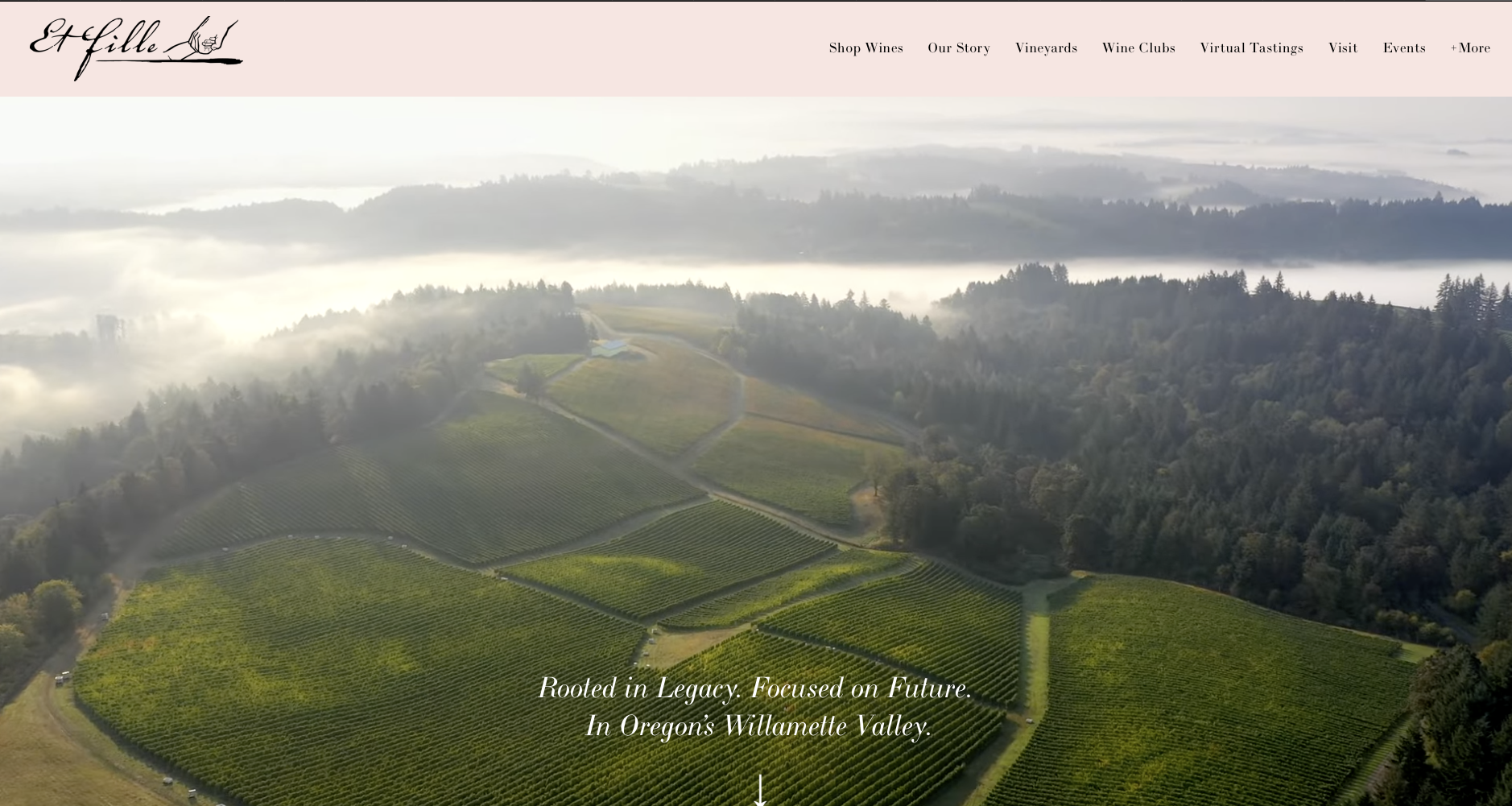 Cristom – https://cristomvineyards.com
https://andreajohnson.photoshelter.com/gallery/Cristom-media-2018/G00001P1ilgvIM2w/C0000EDG6hDt2DnU
Saffron Fields – http://saffronfields.com
http://andreajohnson.photoshelter.com/gallery/Saffron-Fields-Media/G0000umEqjw7UCWA/C0000EDG6hDt2DnU
New Zealand Sustainable Wine – a project showcasing the countries commitment to sustainability, with 95% certified sustainable, organic, or biodynamic
http://andreajohnson.photoshelter.com/gallery/New-Zealand-Sustainable-Wine-Campaign/G0000SPJRJ23MFKY/C0000o4WVtdISei8
Washington Wine Commission – A multiple year project covering all AVAs with sense of place photos, geological details, and year in the life of the vineyard & winemaking
http://andreajohnson.photoshelter.com/gallery-collection/Washington-Wine-Commission-2014-2015-purchased/C0000CQ7PMcOt_kM
British Columbia Wine Commissions & Wineries:  libraries for Wine Island Visitors association, Okanagan, Blue Mountain, Mission Hill, Quail's Gate –
http://andreajohnson.photoshelter.com/gallery/British-Columbia-Canada-Wine-libraries/G0000XGXWyVgCCog/C00006DhbB6k5sUw
Please contact me for a custom quote and examples, these examples are just a small representation of work.