I don't know why it's so difficult for Americans to enjoy time off work to relax and rejuvenate without feeling guilty, but for the last 15 years I've found it necessary to escape the USA to a 3rd world country for this 'indulgence'. When a last minute opportunity arose for a trip to Molokai and Maui, I decided to return to the islands I'd enjoyed with my family and rediscover the islands Aloha spirit.
Dewitt Jones, a National Geographic photojournalist, inspirational speaker, filmmaker, creator of "Celebrate What's Right with the World (http://www.celebratewhatsright.com), and long time friend of colleague Robert Holmes offered us his guest house and the right frame of mind to recharge our creative batteries. Evenings were spent on his porch watching sunset over the island, and at dawn we explored the extensive natural wilderness of the Molokai land trust conservation.
Molokai is a wonderfully sleepy island where everyone we encountered driving the remote roads paused to wave a hello, reminicent of an era 40-50 years ago before commercialism took foothold on the islands.
An invigorating hike up & down the nearly 2,000 foot cliffs above Kalaupapa Peninsula offers breathtaking views and a tour of the site of Father Damien's leper colony.
Afternoons spent were walking Papohaku (three mile beach), searching for the perfect wave and encountering only a dozen or so others enjoying one of Hawaii's longest white sand beaches.
The beaches of Wailea in the south shore of Maui may not be as remote as Molokai, but were equally relaxing and spectacular. Luxuriously soft silky sand steps away from the world class Fairmont Kea Lani resort offer complete indulgence.
I regularly practice yoga and enjoyed the outdoor classes at the Fairmont, but my favorite way to meditate is to float in a calm body of water. The private plunge pools in the villa suites are steps away from the ocean, so the only sound I heard was the repetition of the waves softly crashing on the shore as the sunlight warming my skin – pure bliss.
The adult pool at the top of the property is also an oasis of calm, and the grilled Munchong fish wrap was by far the best poolside lunch experience I've ever experienced. Nick's Fishmarket deserves it's reputation as Maui's premier fresh seafood restaurant, and it's 2,000-bottle wine cellar has consistently earned the Award of Excellence from Wine Spectator magazine (I was especially impressed with the Sommelier's in-depth knowledge and lists from premier pinot noir producers in Oregon & California).
Though I was reluctant to leave the Fairmont, a trip to Hana was a perfect counterbalance. The twisty 3 hour drive along breathtaking coastal and waterfall views is off the beaten track for most casual tourists. I enjoyed a hike through impossibly tall bamboo forest to waterfalls and leisurely relaxation in hammocks overlooking the rugged remote coast.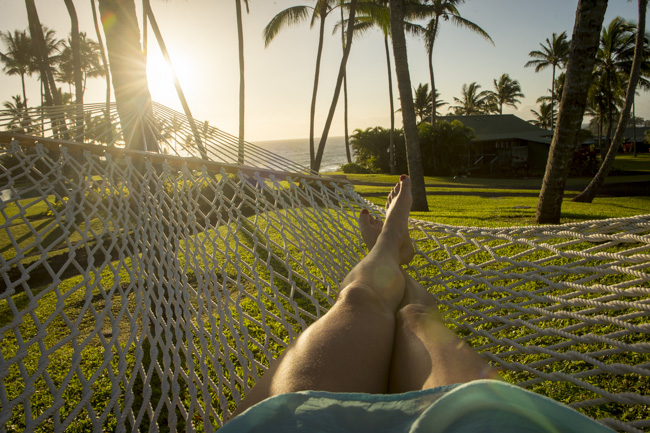 Not sure why it took me so long to return to the islands seeking rejuvination from this Aloha spirit, but know I'll now return often to regain my balance.